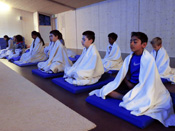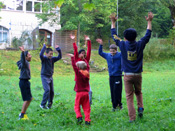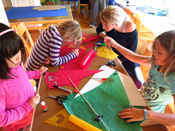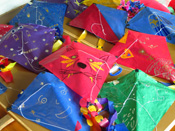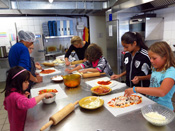 Serving on children's and teenager's courses
If you have already taken part in a 10-day Vipassana course with assistant teachers of S.N. Goenka, you are welcome to apply for Dhamma Service during the course.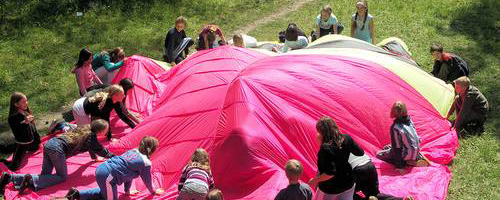 Courses for Children and Teenager
Dhamma Sumeru offers special courses for children in the age group of 8 to 12 and for teenagers from 13 to 18. These courses are offered in German and French. Courses in Italian are offered at the center Dhamma Atala in Italy.
During the course, students learn the technique of Anapana meditation, which is the first step in the practice of Vipassana.
The aim of the course is to let young people experience the benefits of meditation. Regular practice of Anapana gives many benefits, including:
Improved concentration and memory
Increased awareness and alertness of mind
More self-confidence
Capacity to work and study increases
One becomes full of good wishes for others
Increased ability to understand others and to express oneself
About the Technique of Anapana Meditation
Anapana is the observation of natural, normal respiration as it enters or leaves the nostrils. It is a simple technique that helps calm and concentrate the mind.
In addition, Anapana helps children and teenagers to better understand themselves and how their minds work. They gain mastery over their impulses and actions and develop an inner strength that helps them choose right and appropriate actions over wrong actions. It provides them with a tool to deal with agitation, and the fears, anxieties and pressures of childhood and adolescence.


The Structure of the Course
Residential courses begin on the evening of the first day (Friday) and end at midday on the last day (Sunday). Young people admit here to a moral Code of Conduct for the duration of the course, to provide a strong foundation for their meditation.
They listen to tape or video recordings of instructions and short talks given by the teacher, S.N. Goenka. The timetable consists of half-hour sessions of meditation, interspersed with creative and physical activities.
A Children's Course Teacher conducts the meditation sessions and gives individual guidance or explanations as necessary. Other course helpers are on hand to supervise the children, look after their pastoral needs and organise activities.
More information for parents can be found here.


Time to Breathe – Anapana Meditation for Children
How to apply for a course:
Please carefully read the Code of Conduct which you will be asked to follow during your course.
Go to the course schedule of Dhamma Sumeru to find a convenient date of the course you would like to attend.
Access the application form by clicking "Apply" for the desired course.
Fully and completely fill out all the sections of the application form and submit it. An application is required to register for all courses.
Await notification. All correspondence will be through e-mail if you give an e-mail address in your application. Due to the large volume of applications, it may take up to two weeks before receiving notification.
If your application is accepted then we require you to confirm you will be attending in order to secure your place in the course.

International Website
If you are interested in more information about Anapana meditation for children and teenager, please visit the international website.